Alabama hunting leases now can hunt over bait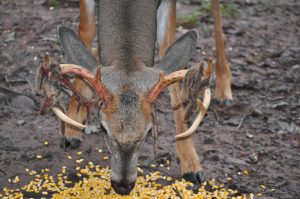 The Alabama Department of Conservation and Natural Resources (DCNR)  now offers a bait privilege license to hunters on privately owned or leased lands. This allows the license holder of any age to hunt white-tailed deer and feral hogs with the aid of bait within the state. Approved by the Alabama Legislature in April of 2019, residents can purchase this license for $15 and nonresidents for $51. Hunters may purchase or renew the license in person, on the phone, or online at outdooralabama.com with immediate effects. However, like all other annual hunting licenses, it must be renewed each year prior to hunting season if they desire to hunt over bait as this privilege expires every year on August 31. The license is required in addition to other appropriate hunting licenses while not exempting any hunters regardless of age. It does not apply on public lands or wildlife management areas but does apply to all hunt clubs on private land including those on lands managed by Legacy Wildlife Services.
An important note is that this license only applies to the person in possession of it, not the property or
hunt club. For example, if a hunt club stand is baited and a guest is invited to hunt the stand, be sure the guest also holds the bait privilege license. The bait privilege is granted only to the person that has
purchased and is in possession of a bait privilege license issued by the DCNR.
Under the new law, section C states that the Alabama DCNR commissioner can suspend the baiting
privilege on a county, regional or statewide basis in the event of a wildlife disease outbreak. As wildlife
diseases such as CWD spreads into the southeast, state agencies have action plans in place to prevent
and stop the spread of CWD if it were to come across state lines.
Overall, this new law gives Alabama hunting leases and managers another tool in their scouting and
hunting efforts to better manage wildlife. The revenue generated from this bait privilege license will be
federally matched nearly three to one to support conservation efforts in Alabama. In trade, hunt clubs
hope the additional resources the state agency receives will improve deer hunting in their state. So,
make sure all your migratory bird hunting buddies are clear that this privilege is only for deer and hog
hunters and go spread a little bit of corn in your green fields this fall. Good Luck!
Looking for an Alabama hunting lease or want to improve your hunting ground? Contact our regional
biologist, Will McCrea at 352-231-9715 or WilliamM@LegacyWildlife.com